Case #7 : Jealous husband in South Africa kills his wife's lover.
This story has been sent by sergeant Tessa Botha, Crime scene investigator, Forensic Science Laboratory (Biology unit), South Africa.
The body of an adult male was found dead beside a dam in South Africa . The man had multiple stab wounds.
Once the man had been identified it was found that he shared a flat with a couple and their baby. Upon investigation the domestic worker at the residence was questioned and she alleged that she had smelt blood in the flat and was made to clean vomit from the carpet. When police arrived at the flat the woman who resided there was in the midst of cleaning and quickly disposed of a bucket of dirty water in the bath.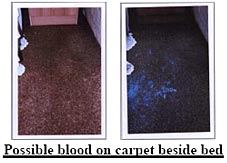 The investigator then called in the Biology units Crime scene section. Small droplets of blood were found around the bath drain, in the basin, on the couch in the lounge and on the doorframe leading to the second bedroom. Certain areas of carpet appeared much cleaner that the rest of the carpet in the flat.

That night "Bluestar Forensic" was used to examine the residence. The areas of carpet in the living area which had appeared cleaner than the rest of the carpet reacted positively with the "Bluestar Forensic," indicating the presence of possible blood. The carpet in the second bedroom was also tested, the area beside the bed reacted positively with "Bluestar Forensic". The areas that reacted positively lead from the second bedroom which the deceased had occupied, out toward the front door. A bucket and mop that were in the bathroom were also tested with "Bluestar Forensic" and reacted positively.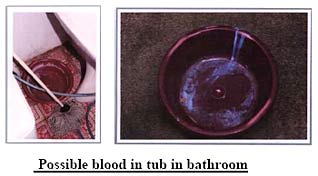 Later the same evening the vehicle belonging to the couple who resided in the flat with the deceased was examined with "Bluestar Forensic" and areas on the back seat reacted positively.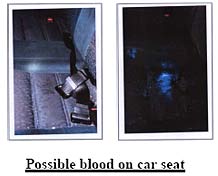 The investigating officer confronted the other occupants of the flat with the evidence later that night. The woman then confessed to the happenings. The woman had been having an affair with the deceased. Her husband found out about the affair and subsequently, with the aid of a friend, killed the deceased. The woman had been instructed to clean the flat after the events had taken place.