The most effective blood revealer and detector available on the market,
for crime scene as well as forensic lab use.
EXTREME PERFORMANCE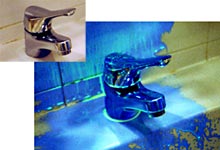 The extreme sensitivity of BLUESTAR® FORENSIC allows the naked eye to detect bloodstains down to 1:10,000 dilutions, like minute traces or droplets that have been washed off, with or without detergent.
BLUESTAR® FORENSIC has a stronger and longer-lasting luminescence that does not require total darkness to be visible. Good quality pictures can be obtained with an ordinary camera and film.
With a little practice, BLUESTAR® FORENSIC makes it impossible to get confused between blood and false positives since the luminescence differs in color, intensity and duration.
BLUESTAR® FORENSIC does not alter DNA and allows for both subsequent DNA typing and ABO typing.
BLUESTAR® FORENSIC works as well on fresh blood as on very old or altered bloodstains, pure or diluted.
EASIER TO USE
BLUESTAR® FORENSIC is easier and safer to prepare thanks to the pre-formulated tablets which avoid weighing-out ingredients. Neither powders nor liquids to be mixed, only fast-dissolving tablets. Does not contain any sodium tetrahydrate perborate. Easily recycled. No residues left after drying. Check our MSDS in the download section.
BLUESTAR® FORENSIC can be sprayed over and over again on the same bloodstains for the same resulting luminescence each time.
Before use, BLUESTAR® FORENSIC has a very long shelf-life and does not necessitate any special storage condition.
Once mixed, BLUESTAR® FORENSIC is stable and will work for hours, or even several days.