Sensitivity | Bleach | Materials | DNA/ABO typing | Old blood
---
BLUESTAR® FORENSIC PERFORMANCE ON BLEACH AND BLEACHED STAINS
Tests were carried out on various blood dilutions that had been bleached (9.6% and 0.48% concentrations). Conclusions are as follows:
Bleach does not prevent subsequent blood detection with BLUESTAR®.

Once bleached (9.6% and 0.48% chlorine concentration) and machine washed, bloodstains at various dilutions are still revealed by BLUESTAR® FORENSIC.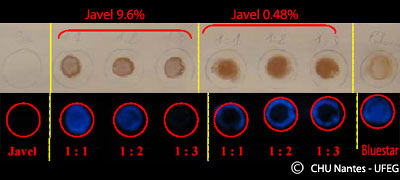 Blood alone

—————–

Blood + Bleach
+ Bluestar
+ Machine wash
Bleach is a lying witness because it shows a characteristic chemiluminescence, but this does not particularly hinder detection: the confusion between bloodstains and bleach is impossible if you have a trained eye:
The luminescence has a different color
The reaction intensity is weaker on bleach
The reaction is much shorter on bleach
The shorter duration of the bleach luminescence is a distinguishing mark of a surface that has been bleached. This can be seen on this video relating to false positives.

This demo is an extract of our 47-minute instruc-tional video, available in the video section.
---
Sensitivity | Bleach | Materials | DNA/ABO typing | Old blood