Sensitivity | Bleach | Materials | DNA/ABO typing | Old blood
---
DNA TYPING OF BLUESTAR® FORENSIC TREATED BLOODSTAINS

Studies show that BLUESTAR® FORENSIC does not interfere with confirmatory and subsequent DNA typing.
The BLUESTAR® FORENSIC test was used on several crime scenes and bluish areas were sent to various DNA laboratories. These labs succeeded in getting DNA profiles of the clues treated with BLUESTAR® FORENSIC.
The French Gendarmerie Forensic lab (IRCGN) has been using this procedure since the beginning of 2001.
CONCLUSIONS OF THE IRCGN STUDY
The French National Gendarmerie Criminal Research Institute has carried out a study on the use of BLUESTAR® FORENSIC prior to performing DNA typing, on blood samples diluted from 1:2 to 1:1000.
«DNA typing performed on blood treated with BLUESTAR® yields the same results as obtained from typing non-treated blood. Such results are extremely important in forensic science. Actually, obtaining reliable DNA typing (high frequency), even partial, allows for a case determination with a minimal risk of error.
This study clearly demonstrates that a treatment with this new solution of BLUESTAR® does not prevent reliable DNA typing (high frequency). These results are very encouraging, and make this chemical an interesting tool for the forensic science».
Download these studies
IRCGN Study:
BLUESTAR® FORENSIC effects on DNA typing
Lautz & Webb study:
BLUESTAR® FORENSIC MAGNUM and its effects on DNA.
DNA profile obtained after 30 days for a blood sample diluted at 1:100 and treated with BLUESTAR®FORENSIC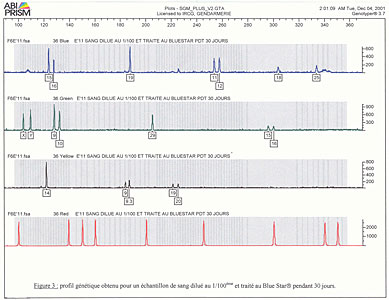 CONCLUSIONS OF THE UFEG-CHU NANTES – FRANCE
The French Research Center "UFEG" in Nantes, specialized in genotyping, has conducted studies on BLUESTAR® FORENSIC with the following results regarding DNA analysis performed after applying BLUESTAR® FORENSIC to bloodstains:
Genotyping of DNA is possible even for 1:100 blood dilutions after applying BLUESTAR® FORENSIC.
Genotyping of DNA is possible on bleached bloodstains (bleach concentration 9.6%) after applying BLUESTAR® FORENSIC.
ABO TYPING OF BLUESTAR® FORENSIC TREATED BLOODSTAINS
Subsequent identification of ABO types is possible as shown in this report on ABO tests conducted on BLUESTAR® FORENSIC treated bloodstains.
---
Sensitivity | Bleach | Materials | DNA/ABO typing | Old blood