20 years of forensic bloodstain analysis in Ontario
While University of Windsor students play with spatter at a forensics conference, provincial police mark the 20th anniversary of bloodstain pattern analysis in Ontario.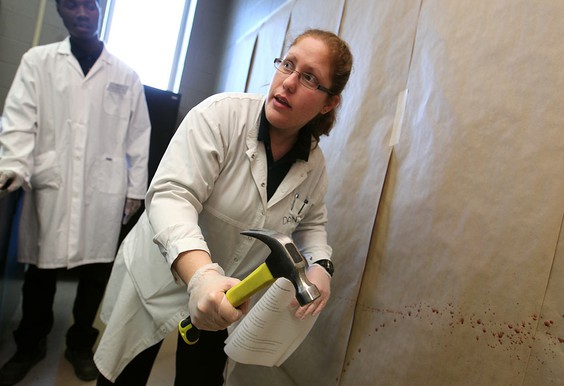 (Dax Melmer / The Windsor Star)
Windsor Star : 21.03.2014
Danielle Yardeni raises her bloody hammer after smashing it into someone's head.
"I swing my hand back, and I do it again," she announces, once more bringing the weapon down on a hapless imaginary victim. 

"I get blood all over the ceiling and maybe the wall."
A fourth-year student in the University of Windsor's forensics program
, Yardeni is demonstrating how a violent act could generate a "cast-off" bloodstain pattern — otherwise known as spatter.
It's the first workshop session of the day at the university's Trends in Forensic Sciences conference.
Yardeni's rampage continues. She trades her hammer for a knife, and swishes the blade in a pan full of sheep's blood.
"Say I stab somebody," she explains, approaching lab partner Jeremiah Boateng.
"I stab Jeremiah. I take (the knife) out, I walk with it. It will drip as I walk."
Yardeni demonstrates the movement and the resulting stain patterns — holding off on the stabbing motion, of course.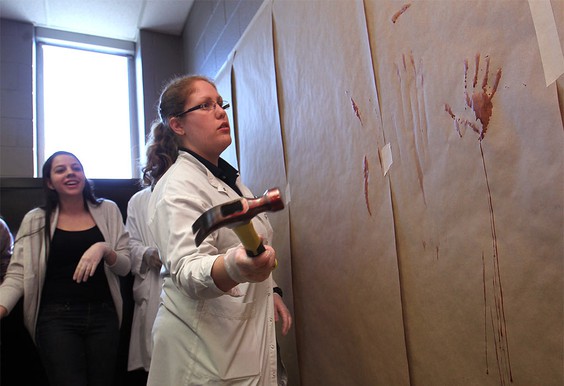 (Dax Melmer / The Windsor Star)
This year is a notable anniversary for bloodstain pattern analysis (BPA) in Ontario. According to OPP, there was no training available in Canada for this particular field of forensics until provincial police decided in 1993 to launch a specialized program.
Two decades later, OPP boast that their BPA program is recognized as being on the leading edge of world research in the discipline.
OPP procedures and advancements in this regard have been published in peer-reviewed journals and emulated by outside agencies.
Provincial police currently have six dedicated bloodstain pattern analysts, all of whom are considered experts.
New OPP Commissioner Vince Hawkes previously distinguished himself as the organization's first bloodstain pattern analyst.
Article content
Hawkes said he believes provincial investment in BPA has paid "huge dividends within the justice system and in our quest for truth."
Among the major cases in which BPA has played a significant role is Project Octagon — the investigation of the Shedden massacre of 2006
. Eight men — all connected to the Bandidos biker gang — were found shot to death, their bodies left to rot in vehicles in a rural area near London.
BPA was also important in Project Hatfield — the prosecution of former Canadian Forces base commander Col. Russell Williams for multiple sex crimes and the murder of two women. BPA was also crucial in solving the shooting deaths of Tracy Hannah and her 14-year-old daughter Whitney in their Picton-area home in 2010.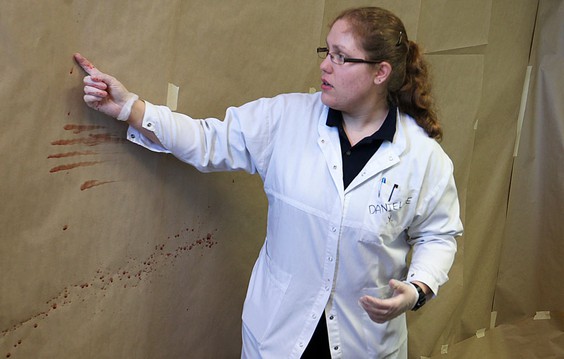 (Crédit: Dax Melmer / The Windsor Star)
"Many times, the bloodstain evidence and testimony have established and supported a first-degree murder conviction," wrote Staff Sgt. Gord Lefebvre, who manages OPP's BPA program.
When blood is shed, the resulting stains can generally be classified under three categories: passive, transfer, and projected.
Passive :
Stains occur when blood falls or accumulates due to gravity. This category includes drips, trails, pools, spills, splashes and flows.
Transfer :
stains happen when one bloody surface makes contact with another surface. When there's motion between the two surfaces, that's a swipe pattern. When there's a pre-existing stain and an object moves through it, that's a wipe pattern. Footprints are also considered transfer stains.
Projected :
stains are the product of dramatic motion. When an object strikes something that's bloody, it creates an impact pattern. When blood is released from an object due to its rapid movement, it creates a cast-off pattern.
Bloodstain pattern analysis isn't just about staring at spots on a wall. The practice requires knowledge and skill in math and physics.
As a substance, blood retains certain physical characteristics — such as viscosity and surface tension. Combined with an understanding of directionality and angle of impact, this makes blood patterns predictable and reproducible.
The Ontario Police College's forensic identification training
includes study of analytical geometry in three dimensions, trigonometry, the laws of motion, the properties of fluids, and work-energy theorem.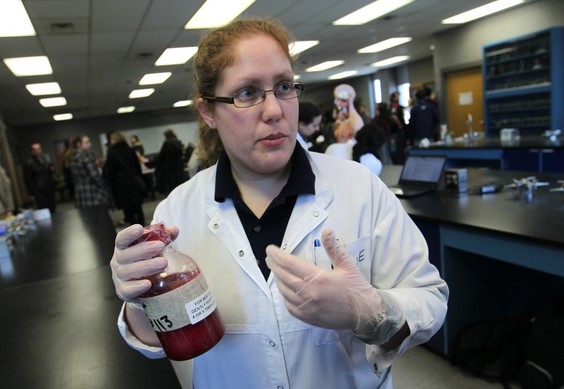 (Dax Melmer / The Windsor Star)
Trivia for the day: In bloodstain pattern analysis, pig blood is commonly used as a substitute for human blood due to their shared physical characteristics.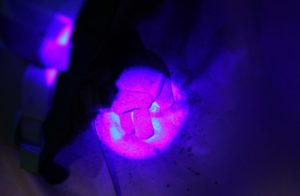 (Dax Melmer / The Windsor Star)
Blood on a glove and floor stains are revealed with the help of Bluestar in a demonstration at the University of Windsor on March 21, 2014.
You know how in those CSI television shows, all that's needed to make every drop of blood in a room glow blue is a flick of a special flashlight?
That's a bit of an exaggeration, unfortunately. "They're trying to sensationalize it," says retired forensic identification officer Wade Knaap — formerly with Toronto police, and now a sessional instructor in the University of Windsor's forensics program.
"It's the 'CSI effect.' (These shows) have created an expectation of what can and can't be done at a crime scene."

Making blood luminous in real forensics work requires application of a detection reagent — a chemical that will react with latent blood.
The current industry standard is a product called Bluestar. It's packaged in pre-formulated tablets, which investigators mix with distilled water and spray onto suspected surfaces. Based on the chemical Luminol, Bluestar will react with blood whether its fresh, old, pure or diluted. It does not alter the blood's DNA in any way. The luminescent effect of Bluestar begins to fade about one minute after application.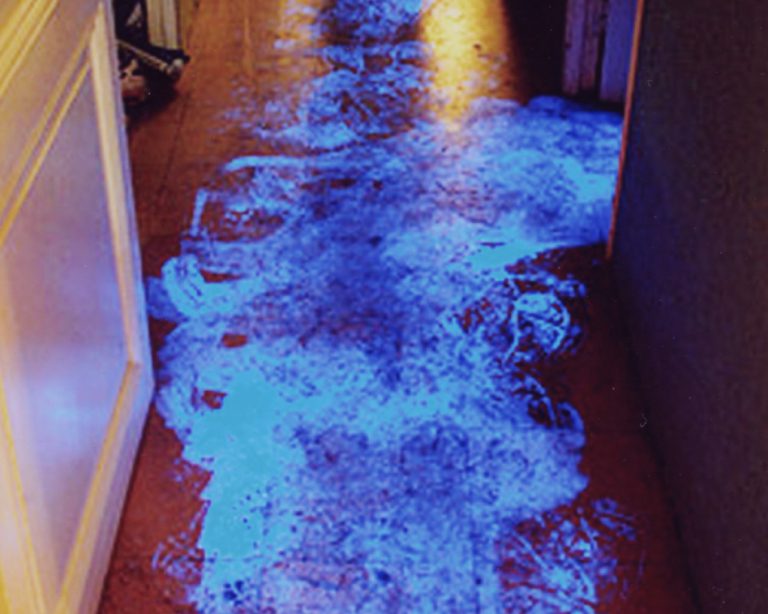 Despite Knaap's annoyance at the many myths perpetuated by television, he appreciates the public's fascination with forensics. "It's cool stuff," he admits. "It's fun. It's using science to solve crimes."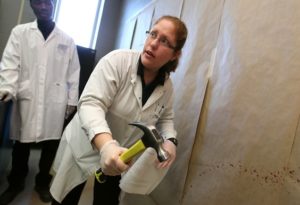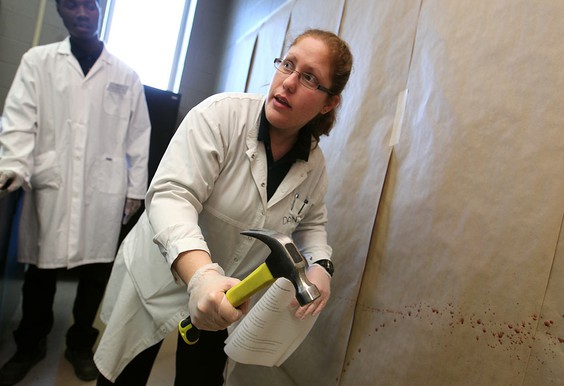 (Crédit: Dax Melmer / The Windsor Star)
Forensics student Danielle Yardeni demonstrates bloodstain pattern analysis. Fellow student Jeremiah Boateng looks on. Photographed March 21, 2014 at the University of Windsor.
20 years of forensic bloodstain analysis in Ontario (Audio)