Photographer Exposes Crime Scenes, With a Dash of Chemistry
The view is often unremarkable: A gray, cinder-block apartment building with a bright red awning, perhaps, or a single-level suburban home in yellow brick with a double garage.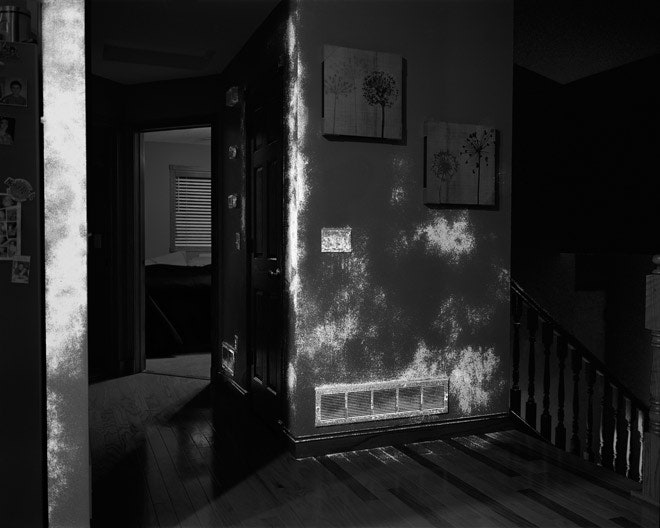 Photographer Angela Strassheim has visited dozens of such addresses, knocking at the door and talking her way inside. The people she encounters often have no idea what's gone on there before she comes around.
Fascinated by crime scenes since childhood, and a former forensic crime lab technician, Strassheim uses techniques usually reserved for police forensics to unveil the hidden residues of violent murder.
"As a child, when I would pass by a house where a violent and newsworthy death had recently occurred, I would stand there, close my eyes and try to imagine what took place," writes Strassheim in her artist statement. Evidence is the latest of her many well-received portfolios dealing with family, mortality and latent menace. Strassheim was recently awarded the Women in Photography Lightside Individual Project Grant for her work.
To make her images, Strassheim closes doors and curtains to reduce light in the rooms and then shoots long exposures of between 10 minutes and an hour. Using color film is a necessity, because the short-lived illumination of blood residues can only be captured on ISO 800 film. The images are then converted to black-and-white in digital post-production.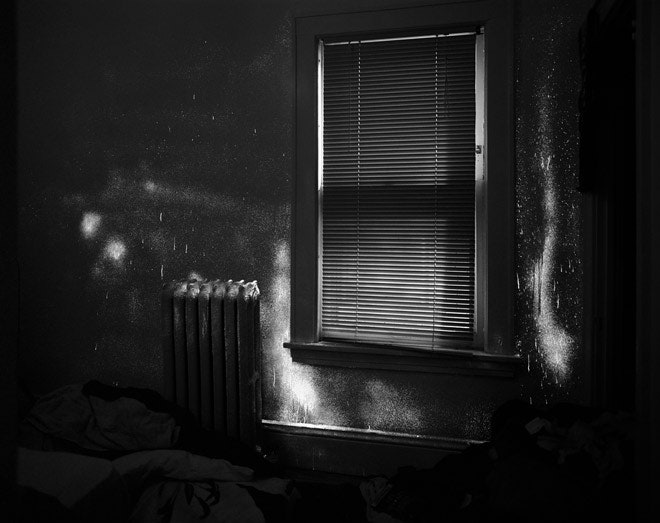 "All around me I observe a glowing trail of bloodshed as swaths and constellations of light, helping me put together the pieces of a violent puzzle," writes Strassheim.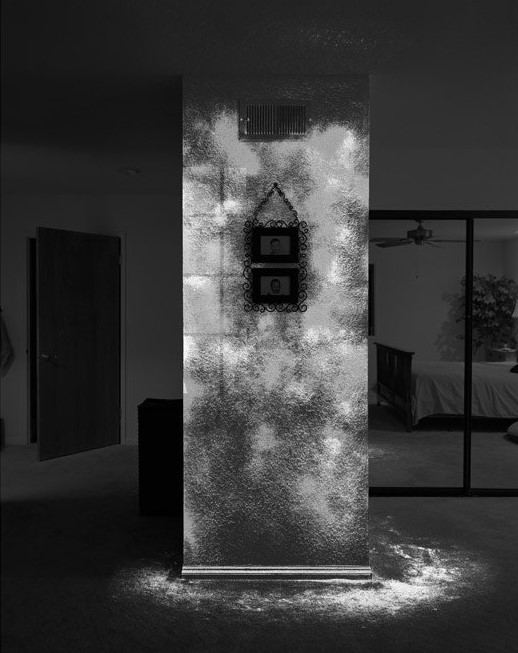 The bright spots in Strassheim's images are temporary chemiluminescence reactions between the chemical reagent BlueStar and the heme molecule of blood still present on the walls. Applied as a fine mist, BlueStar reveals blood patterns on surfaces even after blood has been wiped away. Under ordinary lighting conditions, BlueStar reactions are invisible to the naked eye.
Throughout the project, Calvin Jackson, CEO and owner of BlueStar, along with other CSI specialists offered guidance and advice. Feedback has been positive. "I have had a lot of support on this project," said Strassheim by email.
At more than 140 crimes scenes, Strassheim has negotiated access with new inhabitants of homes, motels and apartments – many of them unaware of the violent histories. Some crimes were as little as two months prior to her visit, and in other cases the crime occurred as far back as 18 years ago. Strassheim's color exterior shots mimic "boring real-estate photography" and carry deadpan titles informing us of the weapons used in each crime. "Costco kitchen knives," "Pitchfork" and "12-gauge shotgun" spur the imagination. Is the glowing splatter really all blood? Graham Jackson, visiting professor of forensic science at the University of Abertay in Dundee, Scotland, isn't so sure.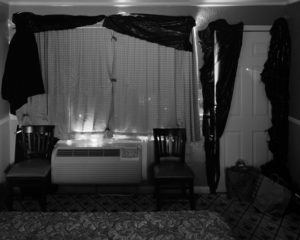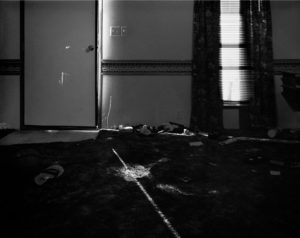 "One problem," he says, "may be the time delay between the crime and Angela taking the photographs. What we are seeing in the photographs may not be patterns that were left at the time of the crime. I'm not convinced that all the apparent fluorescence is due to blood-staining. In fact, some of the fluorescence looks like extraneous light, and some of the fluorescent patterns are particularly weird if they are indeed blood."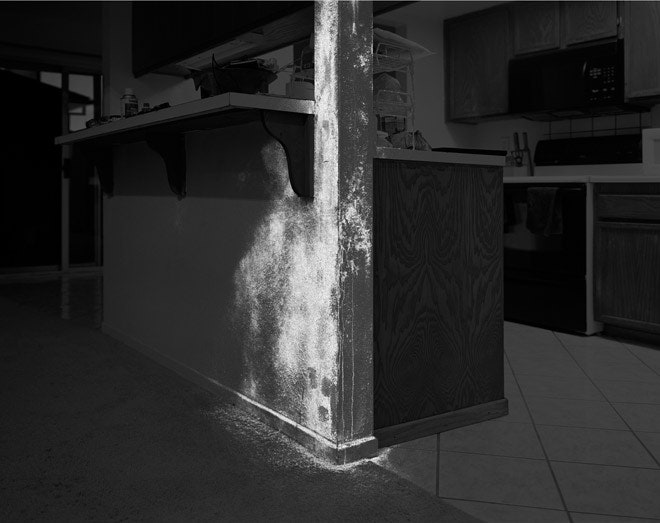 It turns out that BlueStar reacts with peroxidase activity, which is not exclusive to blood. It's exhibited by other materials, such as bleach and, according to Jackson, horseradish sauce.
On the chemistry of Blue Star, Strassheim clarifies that the glow from these other materials fades more quickly than that from DNA, so she waits for their interfering luminance to die out before she starts her exposure.
"Other substrates that react with Blue Star are metals such as light switches, vents, radiators," says Strassheim by email, "however, when there is blood DNA left on a radiator – as seen in Evidence #1 for example – you can differentiate between the radiator and the DNA that glows brighter."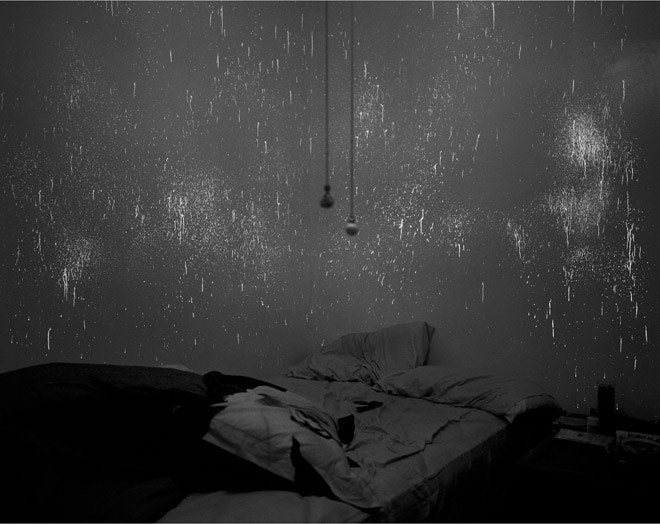 Due to the passage of time and the photographer's unrepeated inspection, Evidence knowingly combines fact with interpretation. They are not presented as official images.
"These photographs are about seeking out the truth," says Strassheim. "However, I am not giving the stories to complete the process of fully imagining the event, so this body of work does play on the imagination."
Photographer Exposes Crime Scenes, With a Dash of Chemistry (Audio)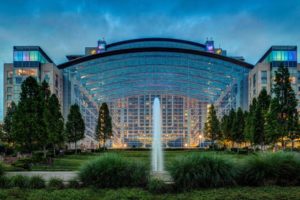 August 20-26 Maryland BLUESTAR® Forensic will be present at IAI 2023
Lire l'article